The world has seen many changes due to the recent outbreak of the COVID-19 pandemic. One such unexpected change is work from home. Many organizations across the globe made it mandatory for all its employees to work from home. The state of work from home is the new model of business operations. A decade ago, remote work was only 2% of an organization's total workforce.
At present circumstance led remote working has compelled the search to find the best online collaboration tool, as more than 90% of an organization's workforce is working remotely.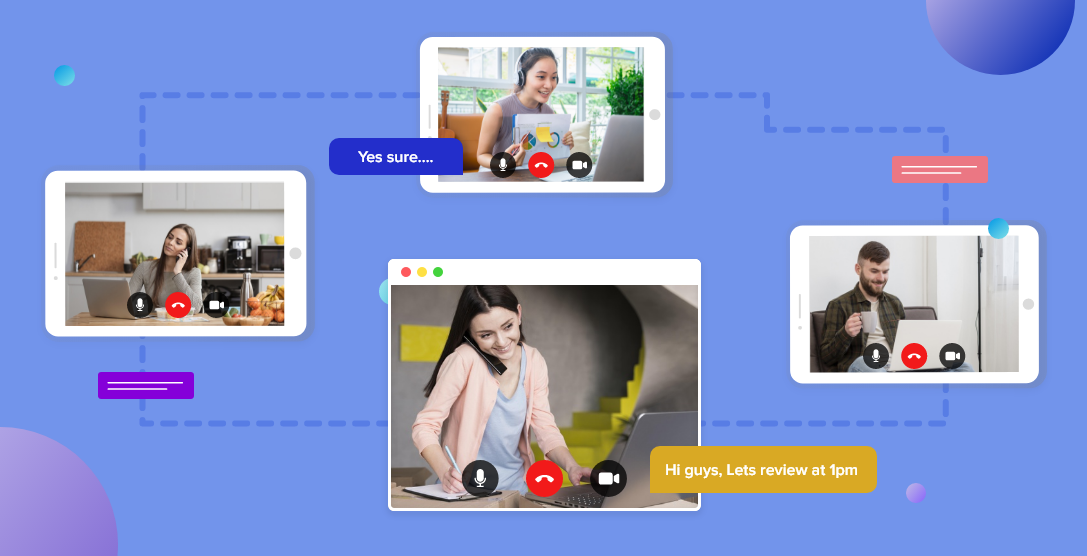 Employers are already employing freelancers to 50% and now with the global pandemic companies are reevaluating their stand on remote work and encouraging the traditional employees too to opt for remote working.
The biggest benefits of remote Workforce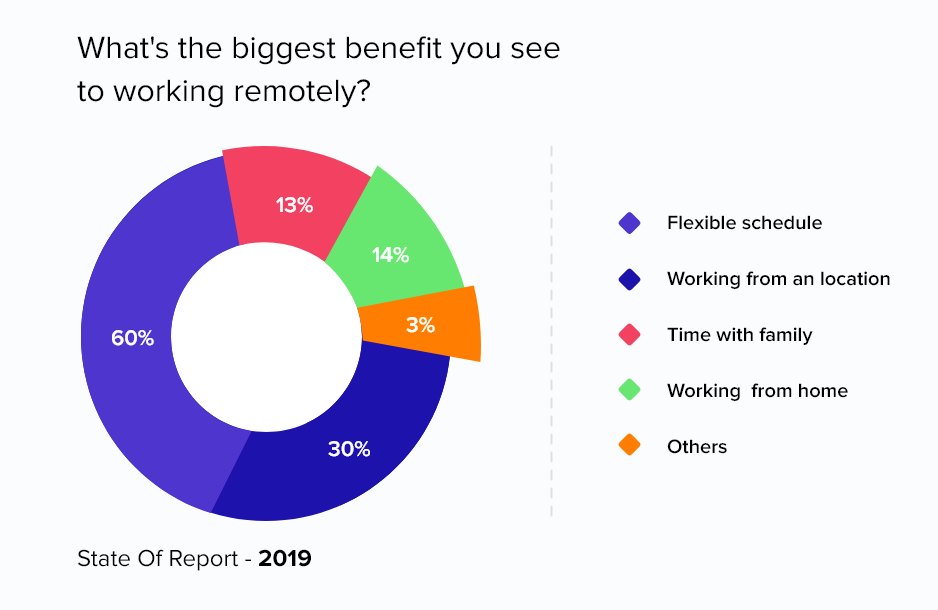 1.From the employers' point of view, a remote workforce means they can now find the right employee as the geographical restriction is more a hindrance.
2.The work productivity is on an increasing scale, as the remote working enables the employees to spend more time on their right work.
3.Adding further the cut down on commuting time, the employees find time to attend their personal needs and at the same time accomplish their daily office work. Remote employees work an additional 1.4 more days per month than in-office employees, which is nearly 17 additional workdays a year.
4.Research shows that by working from remote employees are more productive by 33% compared to 28% from in-office. In a recent survey,Global Workplace Analytics has confirmed that 53% of employees working from remote locations are likely to work overtime.

Checkout our latest product - the ultimate tailwindcss page creator 🚀
5.Working remotely is effective and at the same time, the question arises on how to collaborate with the team across remote locations and maintain data security, which is the need of the hour to many companies.
6.The need for remote collaboration software is one way for teams to communicate about their projects in small, medium, and large companies.
Gear up for the new workplace amplify your team collaboration and productivity
Collaboration is the new normal in the workplace. Employees now have to work closer than before. Collaboration improves efficiency and increases productivity. It is achievable if you have the best online collaboration tools in the first place.
The online collaboration software tools and plans should be on a platform for communication, accessible not just from a desktop computer but also from mobile devices. Best online collaboration tools allow a seamless flow of communication between departments, and team members can track various activities.
The days of remote and collaborative working are here, so to make the most out of your team, here's our pick of the best online collaboration tools right now.
A glimpse on the best online communication tool for remote team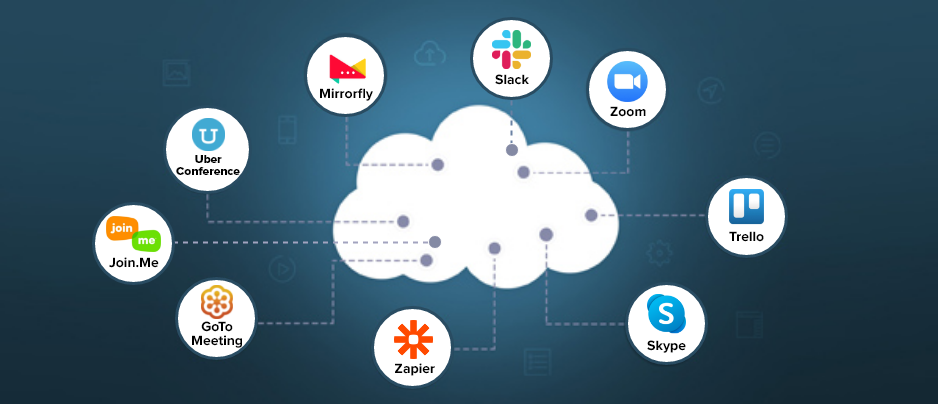 Take a look at the top communication & collaboration tools currently in demand.
Mirrorfly is one of the best Communication & Online Collaboration tools widely used by many companies to perform real-time messaging securely with AES 256 and end-to-end Encryption protection.Accessible from any Andriod,ios & Web platforms,it is a remote collaboration tool that is 100% customizable, has upgradable features for providing the best chat experience.
Among all the remote online collaboration software MirrorFly is uniquely designed with multiple functionalities intended for businesses to configure a messaging platform.
Features
1.Infinite Scalability
2.Pay free from monthly payment
3.Support file & screen sharing
4.Embedded with WebRTC
5.On-premises & on cloud hosting
6.Live broadcasting
7.Supporting Video & voice calls
Slack is a robust collaboration tool, with millions of users around the globe. It's an incredibly smart platform, and you can access it on mobile and desktop devices. While this is not a replacement for cloud storage service, you will be able to drag, drop, and share files with your colleagues directly within Slack.
Features
1.Free version available with limitation on storage space
2.Supports Video Calling
3.Allow Direct messages and files sharing to a single person or a group of employees
4.Compatible with services such as Google Drive, Dropbox, and Box.
A zoom is a tool for remote collaboration that has built-in tools for screen sharing and supports up to 1000 video participants and 49 videos at a stretch.
Features
1.Easy adoption with WebRTC technology
2.Access to extra features like webinars, chat, and phone
3.Streamlined calendaring services with Outlook and Google
Trello, unlike many collaboration software tools, allows access from mobile and web. It lets you organize projects and work on them with team members. An Enterprise edition is available with additional organizational management features.
Features
1.Clean, easy-to-use interface
2.Free version available
3.Boosts several integrations with apps such as Evernote, GitHub, Google Drive, and Slack.
Skype is a VoIP service that enables people to make and receive free voice and video calls over the internet using a computer, web, or mobile phone. includes screen sharing and the ability to record meetings. There's built-in instant messaging, PowerPoint upload features and a whiteboard. You can also hold meetings with up to 250 people, record those meetings, take quick polls or add attachments to a meeting.
Features
1.Free version available
2.Screen sharing and file sharing
3.Real-time translation of voice calls, video calls, and instant messages call recording and Live subtitles and compatible with outlook.com
6. Zapier
Zapier is an online collaboration tool widely used by small businesses and startups. It comes with an Activity Dashboard.
Features
1.Free version available
2.Start Workflows from Any App.
7. GoTo Meeting
GoToMeeting is a web conferencing tool that allows users to host an online meeting with up to 250 participants.
Features
1.HD Video Conferencing
2.Mobile app and slack integration enabled.
8. Join.Me
A top videoconferencing pick for small businesses, "Join.Me" has a modern interface that's very easy to us and plenty of features to enhance your online meetings
Features
1.Displays up to 10 video streams at once
2.Whiteboard feature only available on the iPad.
9. UberConference
Uberconference is a simple and easy-to-use online tool uniquely designed for conference call servicing. At no cost, you can use UberConference for calls with up to 10 participants.
Features
1.Voice Intelligence
2.Support Video conferencing.
Conclusion:
Remote working can result in 20-30% higher productivity when companies do proper planning and use the right online collaboration tool. Up to 80% of businesses use social collaboration tools for enhancing business processes.
Companies need to provide the best collaboration tool for remote teams with key integration features and allows a smooth tracking of all activities such as messages, web conferencing, and email and file sharing all under a single dashboard to work efficiently in the real-time.