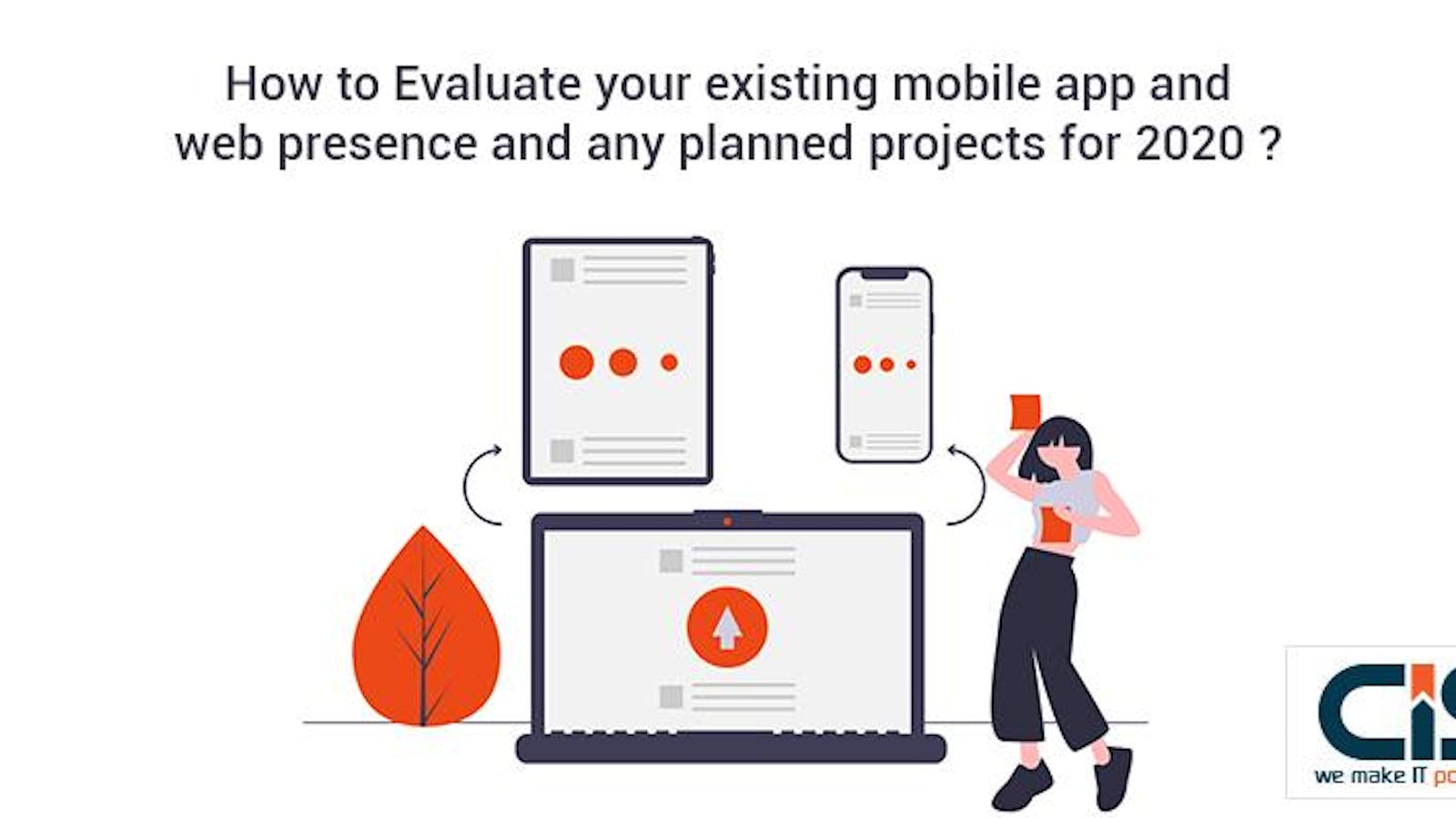 How To Evaluate Your Existing Mobile App And Web Presence And Any Planned Projects For 2020?
Everyone is well aware of the fact that people nowadays spend most of their time on their smartphones. But a lesser number of people are aware that this large proportion of time is spent on mobile apps. In fact, according to the studies conducted, people spend 85%of their time on mobile apps. And it is true that curating mobile sites to interact with the people who use browsers is important. But at the same time developing effective mobile applications with the help of Custom mobile application development services is significant as well. The reason for this is quite obvious from the data we mentioned above, people use mobile apps immensely.
Now developing a mobile app is not enough, it should keep up with the competitive standards of the market as well. And for this, you need to regularly evaluate and update your mobile app. But how can you do this? You can evaluate or optimize your mobile app through the methods that we will tell you below.
How to optimize your mobile apps?
1. Design your app in a manner that it projects your brand. This app should be consistent with the messages that your patrons will receive from the organization, elsewhere.
2. The app developed by you or your leading mobile app developers should have value for the customers. In simple words, your mobile app should be useful for the customer.
3. Make use of bright images, ones that will intrigue the customer to click on your app. This is important especially for the images that will be displayed on the search results.
4. Optimize the content of your mobile. This is to say that all the content should be easily accessible on the smartphone of the user. It should adjust itself to small screens. Videos should play smoothly and the mails should load with speed, quickly. Plus they should be scannable as well. You can do this with the help of custom mobile application development services.
5. Describe your app well and it should have the required keywords in a proper amount. Remember, it is the keywords that will help you to attain customers. If the description of your app has the keywords for which the customer searched then the app store will show your app.
6. Keep yourself engaged with your mobile app. Respond to feedback and address it as well. Make the required amendments and then update this in the description as well. This will let your customers about the modifications that you have made.
Mobile apps are the most integral part of any business these days. So invest your time in evaluating and optimizing your mobile app. This will surely bring you and your leading mobile app developers the fruitful results you all worked hard for.
How to evaluate and optimize your web app?
PWA is the word, that is sure to come up if talks of web apps are going on. Even then there are still many businesses that do not know it. Google created the term Progressive Web Application. This term is used to cite the importance of that software based on the web that follows some specific open standards. In the most simple words, PWA is the software that is delivered through a website but it acts just like a native application. Or we can also say that the features which are required to applications for the App store of apple and Google play store can now be provided through websites only. Developing features for these two platforms proved quite costly to the web development company as well.
How PWA will impact the web?
PWA will result is a more secure and faster web. PWAs will eradicate the need to look for a green lock or for a green bar to be assured that you are surfing a safe connection. PWA is by default secure. In fact, the PWA will not run until it is provided with a safe connection by your browser. Also, the major requirement of PWA is that all the content on it is served via a secure connection. This is surely the finest example of the best web development services.
How to evaluate the planned projects for 2020?
We have mentioned below some of the steps that you can take to evaluate the projects you have planned for 2020.
1. Identify the Competition
2. Check the web presence of all your rivals
3. Discover any unique selling point that they might have
4. Check the ratings of your competitors' app
5. Compare your app with your competitors.
You will be able to make the above-mentioned assessments if yours is a web development company. If not then you can take the help of others.
Summing it up
So above we have mentioned some of the methods through which you can evaluate and optimize your mobile app along with your web presence and any planned projects that you might have. The last tip would be to make use of the best web development services to curate all your applications.